Breakfast is an important meal, often served with a plate of eggs, as the main staple of this first meal of the day. If you're looking for an alternative to eggs, there are plenty of delicious breakfast ideas without eggs to consider for your next morning meal.
One of the essential aspects of breakfast is nutrients, including protein, which provides a great energy source to begin your day. These recipes are easy to prepare and offer a tasty detour from the standard bacon-and-eggs platter.
1. Avocado Toast
Avocado toast is a popular option for savory breakfast without eggs. You can enjoy two slices of rye, whole grain bread, or pumpernickel with freshly mashed avocado on its own, or add any variety of toppings for a signature taste. Black pepper, sliced tomatoes, paprika, and crispy bacon are great options for toppings. Suppose you prefer a simple serving of avocado toast with a bit of lemon juice and salt. The essential ingredients for this light meal include the following:
Two slices of sourdough or whole-grain bread, toasted (rye and pumpernickel are also great options). Look for breads with a low glycemic index.
One ripe avocado
Lemon juice (freshly squeezed)
Salt
Toast both slices of bread, and mash the avocado in a small bowl, adding in the salt and lemon. You can add some black pepper, chili pepper, and other spices as desired. Spread the avocado on each slice, and serve open-faced immediately, or add your choice of toppings, such as:
Sliced cucumbers
Cilantro
Sliced bell pepper
Crumbled feta cheese
Roasted chickpeas
Sliced red onions
2. Tofu Scramble
If you're craving a plate of scrambled eggs and prefer a plant-based alternative, this flavorful tofu dish is a great option to enjoy. You'll only need a few ingredients to create this tasty plate, including:
One block of firm or extra-firm tofu, drained
A quarter teaspoon of turmeric powder
A half teaspoon of salt
One tablespoon of olive oil
Two tablespoons of nut-based milk (soy, almond, coconut milk)
A quarter teaspoon of garlic powder
Two tablespoons of nutritional yeast
This recipe is easily prepared within a few minutes in the morning. To increase the tofu flavor, you can marinate the tofu in an airtight container with olive oil, turmeric, garlic, and non-dairy milk.
In a medium skillet, heat with olive oil. In a bowl, mash the tofu with the nutritional yeast, turmeric, salt, and garlic powder. Pour into the skillet, and mash until the tofu resembles a crumbly consistency, much like scrambled eggs. Add in the non-dairy milk, continue to cook for two or three minutes, then serve with a side of sliced tomatoes, fresh parsley, kale, or sliced avocado.
3. Blueberry Smoothie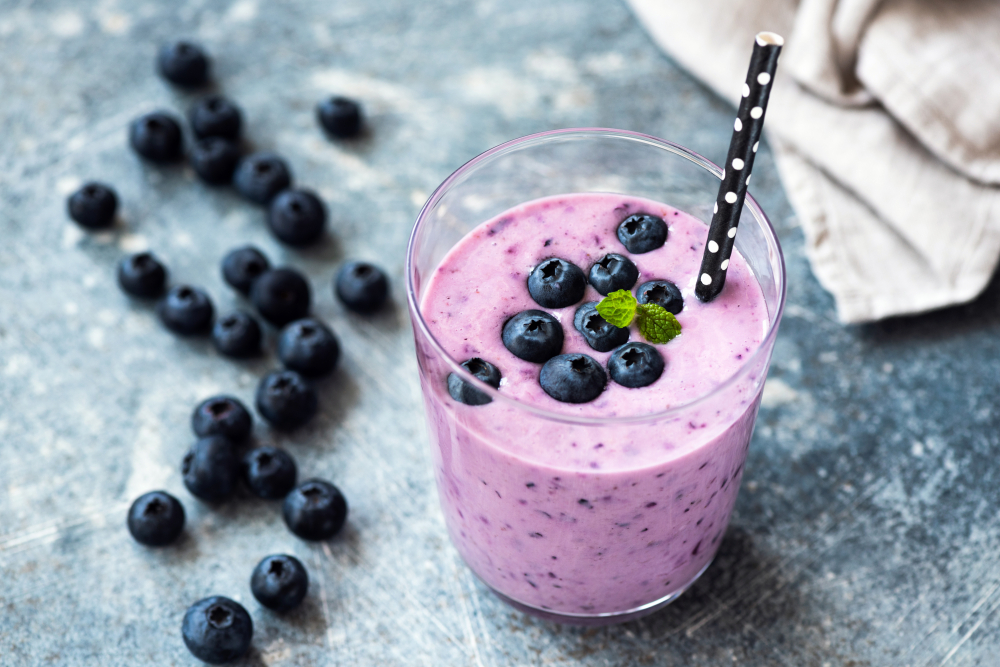 This delicious smoothie makes a refreshing drink and provides sufficient vitamins, antioxidants, and protein for your first meal of the day. You'll find smoothies and shakes make a quick and easy way to prepare and enjoy within just five minutes. Fresh fruits are ideal when they're in season, though frozen berries are the most convenient.
The ingredients include silken (soft) tofu, and yogurt, both of which add a significant amount of protein and calcium:
Two-thirds of a cup of milk (low fat or plant-based)
One cup of frozen blueberries
One carton (or one cup) of raspberry yogurt
Two tablespoons of raspberry jelly or jam
Half a cup of silken tofu
Pour all the ingredients into a large blender and pulse until they are smooth. If you have the smoothie too thick, you can add one or two tablespoons of milk or add one or two ice cubes. This drink is best to enjoy immediately.
Note: if you don't have any silken tofu available, you can use a banana or substitute with extra yogurt (plain or flavored).
4. Whole Grain Mexicali Grits
This recipe is a tasty spin on traditional grits, traditionally served with eggs, smoked meat, and toast. Mexicali grits take a bit longer to cook than oatmeal, which makes them ideal for a late brunch over the weekend, or when you have extra time during the week. The following ingredients provide a tasty dish for this unique breakfast:
One teaspoon of salt
Three and a half cups of water
A quarter cup crema Mexicana
Fresh cilantro leaves (fresh)
Two teaspoons of freshly squeezed lime
One cup of whole-grain grits
Half a cup of pico de gallo
One avocado, sliced into cubes
One cup of low-fat milk
In a large saucepan, combine the milk, salt, and water, and bring to a boil gradually on medium-high heat. Slowly pour in the grits and stir, reducing the heat, but continue to cook without a cover. Stir and cook the grits for about 35 minutes until the mixture is thick. Add in the pico de gallo, avocado, and lime juice. Pour into serving bowls and top with one tablespoon of crema Mexicana and extra sliced avocado and cilantro.
5. Chia Seed Pudding
Chia seed pudding is high in calcium, protein, and fiber. It's a typical snack enjoyed as part of a low-carb diet, and it's easy to prepare the night before, then chill in the refrigerator overnight. You'll find this treat tastes like rice pudding, which can be enjoyed as a sugar-free dessert or a light breakfast. The ingredients are easy to find in most grocery stores:
Half a cup of chia seeds
A quarter cup of maple syrup
Half a teaspoon of vanilla extract
A quarter teaspoon of cinnamon
Two cups of coconut milk
Pour the coconut milk, maple syrup, vanilla extract into a blender and mix until smooth. Pour in the chia seeds and continue to blend. Alternatively, you can remove the blended coconut milk first and pour it into a bowl before stirring in the chia seeds to keep them whole. Transfer the mixture into a mason jar and refrigerate, covered, in the refrigerator overnight.
The chia seeds thicken over a few hours and change the consistency of the blend into a thick pudding. In the morning, you can scoop the pudding into a serving cup and sprinkle it with cinnamon. You may want to consider other toppings, including crushed peanuts, sesame seeds, or pistachios, cocoa powder, and freshly sliced fruit.
6. Overnight Oats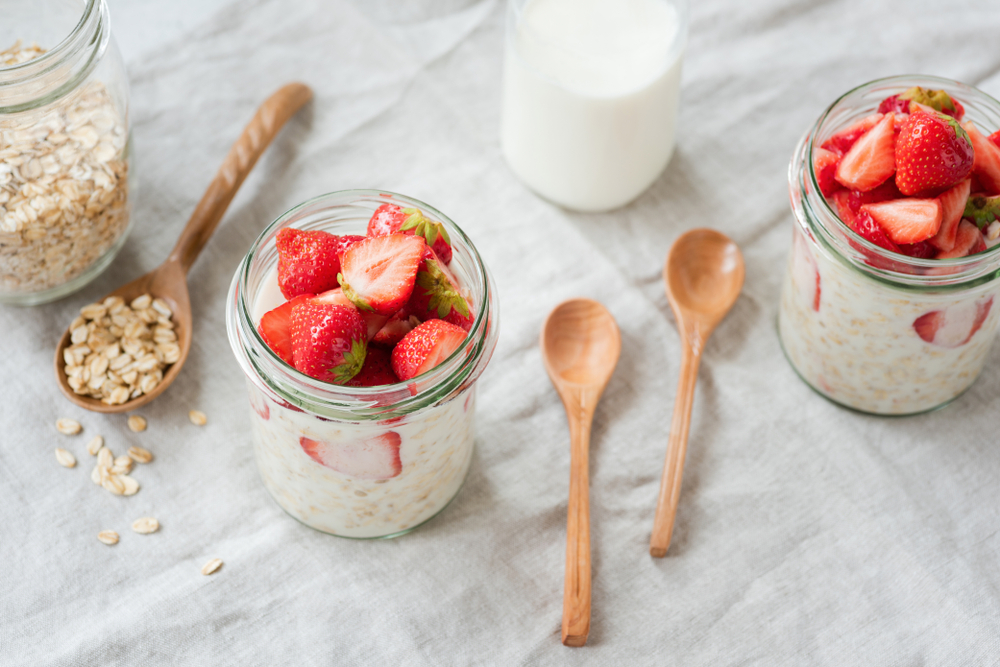 Like the chia pudding recipe, overnight oats are a delicious option to prepare the night before so that you can enjoy a quick meal in the morning. This recipe is perfect if you don't have much time for breakfast and avoid skipping this important meal. The ingredients include old-fashioned oats, instead of quick cook oats, which are not recommended:
One teaspoon of vanilla extract
Two cups of strawberries, sliced lengthwise
Two cups of old-fashioned oats
Two teaspoons ground flaxseeds
Three cups of dairy or nut-based milk
Place three or four jars on a table and add half a cup of oats to the bottom of each jar. On top of the oats, add a half teaspoon of flaxseeds in each jar, with equal portions of vanilla extract, and pour three-quarter cups of milk over the dry ingredients. Place the fresh strawberries on top and refrigerate them. Enjoy the following day chilled, or reheat in the microwave or saucepan for a few minutes to enjoy warm.
7. Bagel with Cream Cheese and Smoked Salmon
This simple bagel treat is perfect for breakfast, weekend brunch, or a light lunch. It's an easy meal to prepare, and there are great options to add on top of the essential ingredients:
Six ounces of smoked salmon, thinly sliced
Six ounces of softened cream cheese
Three whole grain bagels
Black pepper to taste
Three tablespoons of capers
Lemon wedges
Sliced red onions
Slice and toast the bagels. Butter each bagel and evenly spread the cream cheese and top of smoked salmon. Top with sliced onions, black pepper, red onions, and garnish with lemon slices. There are some great toppings to add, if you're feeling a bit adventurous, including:
Sliced tomatoes (cherry tomatoes or medium-sized)
Fresh or dried dill
Parsley
Sliced avocado
8. Pumpkin Waffles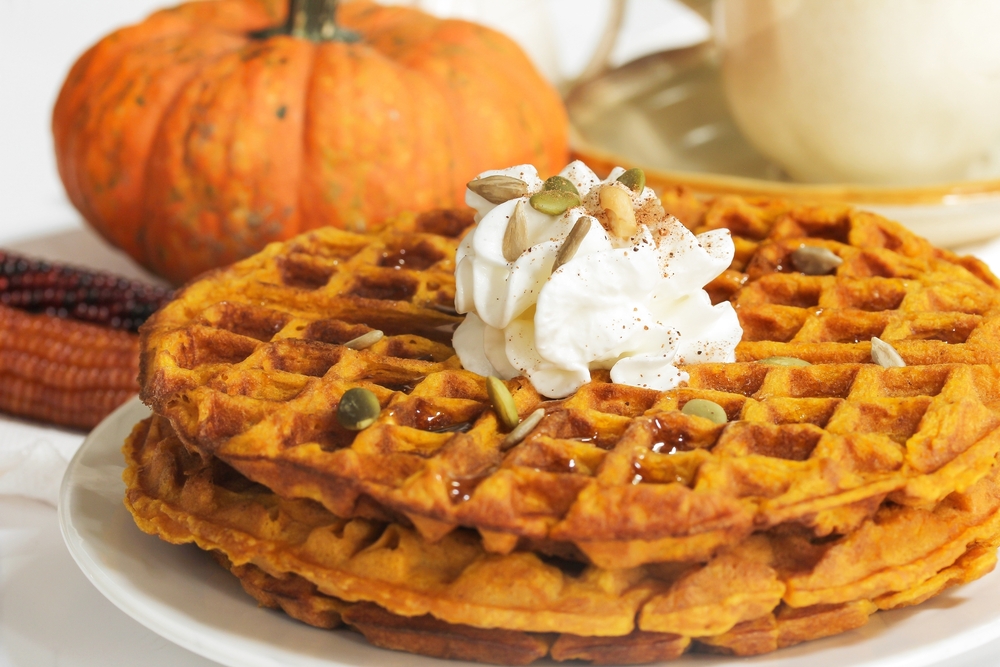 Pumpkin is a tasty ingredient during the fall season and a delicious ingredient in a serving of pancakes or waffles. This waffle recipe offers a great way to enjoy the distinct pumpkin spice flavor, with everyday staples you'll find in your pantry:
Two and a half tablespoons of pumpkin puree
Two cups of flour
Half a cup of butter (or plant-based butter)
Half a cup of brown sugar
One teaspoon of white vinegar
One and a half water
A quarter teaspoon of salt
One and a quarter teaspoons cinnamon
A dash of nutmeg
One a three-quarter tablespoons baking powder
A quarter teaspoon of ground ginger
Prepare the waffle maker. Melt the butter or keep it at room temperature, and mix with brown sugar, spices, and pumpkin puree in a bowl. In a separate bowl, mix the dry ingredients, including the salt, flour, and baking powder. Then, add the vinegar and water and blend in all the ingredients in one bowl until it is smooth in texture.
Scoop the batter into the waffle iron once heated, and cook for three to four minutes, according to the instructions. Serve with your choice of toppings, such as maple syrup, honey, or jam. Cinnamon and nutmeg are also great toppings.
9. Peanut Butter Banana Smoothie
You'll find this powerful smoothie combines the best of fiber and protein with a lot of flavors. Greek yogurt is an essential ingredient that adds healthy probiotics to this drink, making this a great breakfast option.
Half a cup of plain Greek yogurt
Three-quarter cups of almond milk
One large banana (frozen or fresh)
A quarter teaspoon of cinnamon
Two tablespoons of peanut butter
One tablespoon of vanilla or cocoa powder (or whey protein, optional)
Crushed ice (optional)
Combine all the ingredients into a blender or food processor and mix until smooth. Serve immediately with a sprinkle of cocoa or cinnamon.
Summary
There are many breakfast ideas without eggs to explore, whether you're avoiding eggs due to allergies, following a plant-based diet, or looking for alternatives. While eggs are traditionally the go-to breakfast option for many popular dishes, there is a growing trend to embrace plant-based options, grains, fruits, and other sources of nutrients for a balanced and healthy lifestyle.
ABOUT THE AUTHOR:
Rob Jones is a father of two who lives in Massachusetts and enjoys cooking and his dog Beau. Rob has spent years studying food and its effects on the body and mind. He believes in moderation and enjoyment.