Does your dog have a sensitive stomach? Are you constantly searching for the best foods to give your best friend to keep him or her healthy? We've got some insights that both you and Rover will appreciate. Read on and find out what is the best dog food for a sensitive stomach!

How Do I Know if My Dog Has a Sensitive Stomach and What Causes it?
A sensitive stomach or mild intestinal upset in a dog can be detected by flatulence, loose stools and sporadic vomiting, according to The American Kennel Club. Your dog could have one or more of those symptoms at any given time; if they become serious or irregular, you should get in touch with your veterinarian right away.

Either way, a trip to the vet is a good idea if your furry friend has a sensitive tummy. This can rule out serious conditions, like stomach cancer, that may cause a belly ache. If your pup leaves the vet with a clean bill of health, the culprit is most likely diet.

Dogs react to different foods differently, just like humans. It's important to figure out what foods are bothering your pupper. For example, some canines are sensitive to certain proteins. There is also the chance that your dog's food doesn't have enough of something, like fiber, or too much of something, like fat. Or, your furry goofball could be getting into the trash while you're at work or getting extra treats from someone in your family that you may not know about.

How Do I Figure Out What Foods My Dog Doesn't Tolerate Well?

If you know that your dog's meal plan has something to do with his or her upset stomach, start an elimination diet. First remove treats, leftover human food, and anything else besides Fido's wet and dry dog food. You should also ensure that your pup isn't getting into the trash or any other areas of the house where there are potential snacks.

After you've removed those items from your furry friend's diet, look for a change in a week or two. If the stomach aches seem to lessen, you may have found what was causing the problem. If not, you should consider doing the same thing with your dog's wet and dry food, one at a time, to see if either of those things are the issue. Look at the protein that's in your dog's food and if it's chicken, try beef or fish to see if either of those will be better for your pupper. Fiber is very important and it's possible that your dog just needs a bit more of it. Some dogs digest everything they eat while others can become sick from food daily.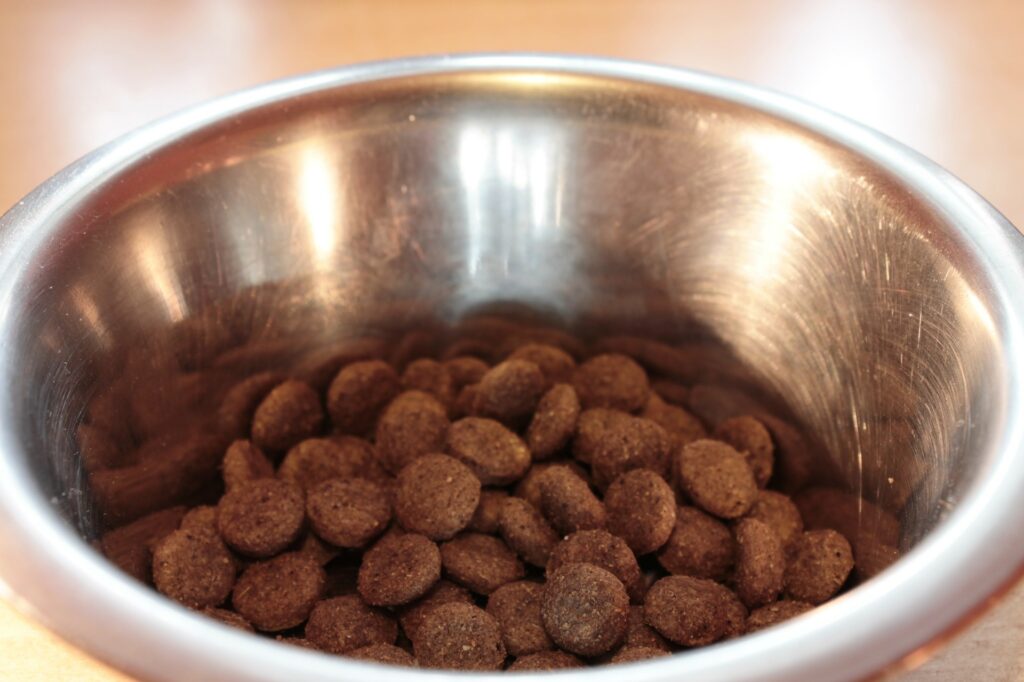 Choosing the Best High-Quality Dog Food for Sensitive Stomach

When looking for a high-quality dog food for your pup, first talk to your veterinarian and see if you can create a meal plan together. Your vet will give you recommendations and let you know which ingredients could potentially be problematic.

When searching for a commercial dog food for your pup with a sensitive stomach, look for claims that say, "Complete and Balanced." That means that the food was created with all the nutrients necessary for dogs, according to the AKC. Make sure you look at the label and check out the protein and fiber sources along with fat content. If you are going to switch your dog's food, make sure to slowly remove the old food from your puppy's diet as you integrate the new. The first meal should have about 80-90% of the old food and the remainder should be the new food, The AKC reported. You should tweak that ratio every day for 10 days until your dog is completely on the new food.

5 Best Dog Foods For a Sensitive Stomach

Purina Pro Plan Sensitive Skin & Stomach. The first ingredient in this dry dog food is salmon, which is a generally mild protein source for dogs. This food does not have any soy, wheat, corn, by-products or artificial flavors or colors. It does contain prebiotic fiber to aid in digestion.
Iams ProActive Health Sensitive Skin & Stomach Grain Free Dog Food. This dry dog food does not include any preservatives, corn, wheat, soy, or grains. It comes in two flavors: chicken with peas or salmon with lentils.
Royal Canin Canine Gastrointestinal Low Fat Dry Food. Because too much fat can upset your dog's tummy, this low fat dry food is a healthy choice. It contains easily digestible protein and has a low fiber content to lower your doggo's digestive stress.
Royal Canin Veterinary Diet Canine Gastro Intestinal Low Fat Canned Dog Food. This wet dog food has a low fat content to make it easy for your dog to tolerate. It also contains balanced fibers that are easily digestible and lower fermentation in your pup's GI tract.
Hill's Science Diet Canned Wet Dog Food, Adult, Sensitive Stomach & Skin. This wet dog food was created for optimal digestion. It's grain-free and made with natural ingredients. This wet food is veterinarian recommended.
Have a similar problem as your pup? Click on the links to learn about the food sensitivity symptoms that are making you sick, and how to improve your gut health.
ABOUT THE AUTHOR: