Organizing your space perfectly brings you comfort, knowing everything is in its designated spot. Some areas of your home are more straightforward to organize than others.

When it comes to recycling, you're doing it to be kind to the planet, but it can be hard to navigate when your recycling space requires some organization. The key to recycling is collecting each item you intend to recycle to ensure it properly leaves your house. Here is how to organize recycling at home.
Why Recycle?
Recycling is an important way to keep the environment happy and healthy. It has many environmental benefits, including conserving energy, reducing air and water pollution, conserving natural resources and reducing greenhouse gases.

Many items like paper, plastic and glass can accumulate in your home and be recycled to have a greener lifestyle. You can implement some small tips to store and transport materials you recycle. It will make it easier for you to keep up with your eco-friendly tasks with minimal effort.

Organize Your Recycling
For each item you're recycling, you could have a designated spot for them to go. These tools will help you sustain your lifestyle of caring for your home and planet. Having an area for each type of recyclable can get tricky, but these tips will help you have an organized space for each recyclable.
Closet Recycling Center
If you have a large closet in your kitchen, you could use the space to discard all kinds of recyclables. You can combine stackable containers and label them for what goes in each one to make things straightforward for you and your family. If there is enough space in your closet, you can put in pegboards to mount things like bag collectors or other items to create more room in the area.
Drawer Recycling Storage
Instead of using a trash-bin pullout for your regular waste, turn it into a place to store bottles and cans. This way, they remain hidden in your kitchen and you can quickly gather them when the space is full.

You can also use the drawer next to the pullout bin for items like newspaper, cardboard and other flat paper. Typically, kitchen drawers are left with a lot of open space, so stashing kitchen items in one drawer to make room for your recyclables can help keep things organized. Placing some string at the bottom of the drawer will allow you to tie it off when it's full and ready to be carried away.
Sorted Recyclable Bins
If you live alone and have less waste than a large family, you can fit your recyclables in one cabinet. Instead of having one large bin that mixes up your recyclables, try adding three triangular recyclable disposals. Typically, the cabinet you keep in one rectangular container will match up to the same space as three separate triangular bins.

Place each bin with the top point facing inward towards each other. The space will be perfectly filled where your typical regular container would go. Now you have an organized, accessible room for paper, plastic and cans.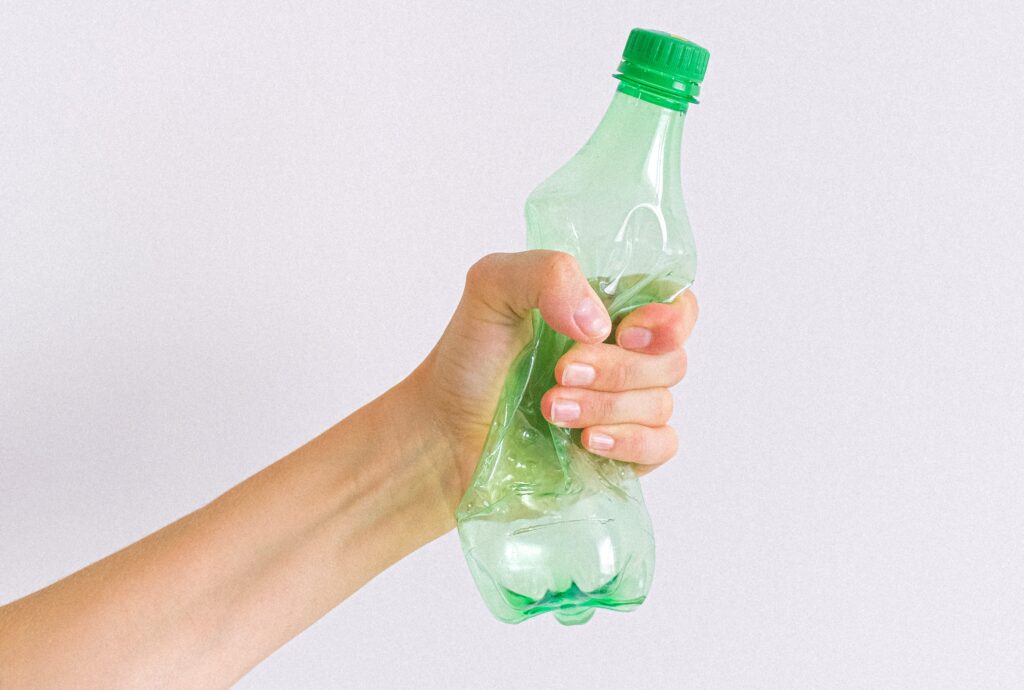 Rotating Recycling Bins
Corner cabinets or lazy susans offer a lot of storage space, but storing small items on them can be challenging since they get lost. Make the most out of the area and install a lazy susan and place recycling bins on it. If you need to secure the containers, be sure to do it before trying to rotate the lazy susan. Now, you'll be able to open the door and spin the bins to reach each container for each recyclable. You can take them out and dispose of them when they're full.
Organized Bags
Fun reusable bags are a great way to sort recyclable items from the trash. Get bags with a flat bottom and strong handles so you can quickly grab them to transport the items. Label each one and choose colors that match your kitchen or add a pop of color.

You can set these on a deep shelf, on hooks in a closet or anywhere accessible. It's best to get a plastic-like material so it's easier to clean out if any remnants from your items leak into the bag.
Recycling Baskets
Similar to the bags, you can use labeled baskets to store items in convenient places. Place baskets in low-open areas like under benches or racks for storing recyclable items. You can get many different sizes of baskets that will fit in your available space.

It's also best to get liners for the baskets to protect them from any spill. Some oilcloths or treated fabric options use fibers to protect them from stains and spills from leftover products in recyclable items.
Rolling Recyclables
You can get rolling wire carts designed for office supplies and repurpose them as recycling bins. They're cheap and convenient since you just roll them out of their space when you want to add recyclable items. Rolling bins are excellent if picking up large containers is a struggle, so you can just move them from place to place instead.
Reusable Bag Storage
If you forget your reusable bags going to the grocery store, you may have tons of plastic or paper bags afterward. You can set up a storage system in your kitchen or other space before heading out the door for easy and organized access.

Stuff plastic bags into a wall holder or hanging bag dispenser so you don't forget them when leaving the house next time. You can also get wire wall baskets and hooks to set paper bags in and hang your reusable bags. When they are hanging in plain sight with easy access, you'll remember to take them with you on your next trip.
Make Recycling a Snap by Improving Your Organization
Organizing your recycling is an excellent way to ensure you correctly dispose of all your waste while keeping your home looking nice. Having each item stored properly is vital to avoid clutter while doing your part for the environment.
About the author:
Mia Barnes is a health and wellness writer with a passion for nutrition and mindful eating. Mia is also the Founder and Editor-in-Chief of Body + Mind Magazine, an online healthy living publication. When not writing, you can find Mia reading mystery novels or practicing yoga