A low carb diet is known to work. This is a scientific fact, with more than 23 studies shown to prove this. In numerous instances, low carb meals can result in at least two times more weight loss than low-fat diets.
Furthermore, low carb diets also have a wonderful safety profile with no side effects. Research has shown that low carb meals can significantly improve various pertinent risk factors.
For one, triglycerides can decrease while HDLs increase. Blood sugar levels and blood pressure can also significantly decrease over time. With that in mind, here are the top low carb 30 minute meals you can make from the comfort of your home.
1. Horseradish-Crusted Salmon With Crispy Leeks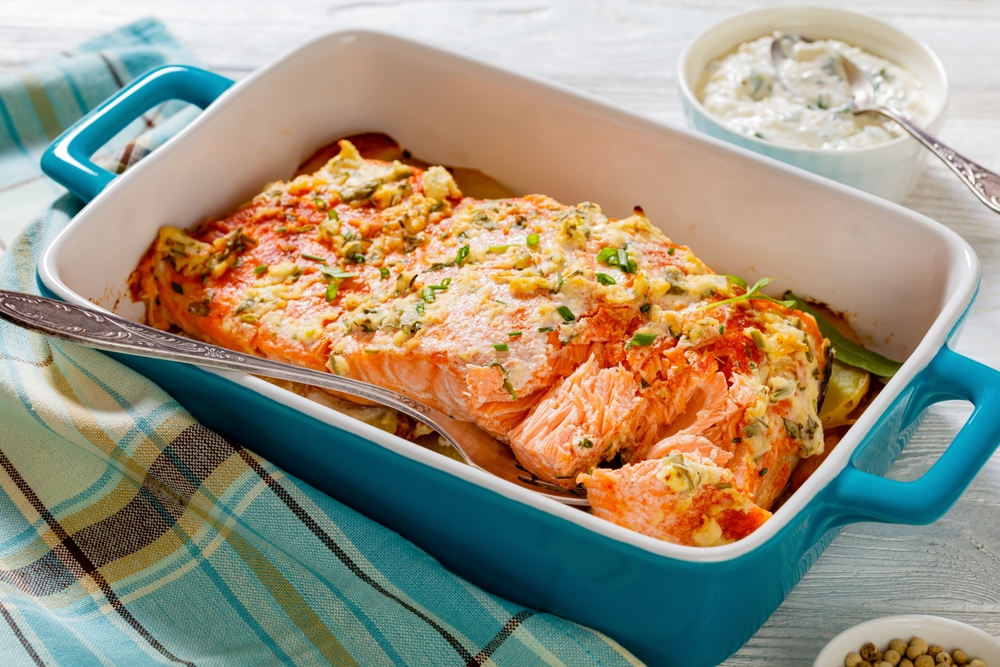 In this low carb 30 minute meal, you must coat your leeks in cornstarch before crisping them in the pan. Your crispy leeks can make a great topping for your salmon. You can spread your horseradish-infused mayonnaise all over your salmon before baking it. Doing this helps to keep it moist while also providing it with a peppery bite.
This keto dinner recipe takes about 25 minutes to complete and can serve 4. In terms of nutritional profile, it is:
Nut-free
Low-calorie
Low carb
High protein
Gluten-free
Dairy-free
Ingredients Required
3 tablespoons of cornstarch
1 medium leek using the pale green and white parts only. You should cut leeks into matchsticks
¼ cup extra-virgin olive oil
1 tablespoon of prepared horseradish
2 tablespoons of mayonnaise
½ teaspoon ground pepper, divided
½ teaspoon salt, divided
1 ¼ pounds salmon fillet, cut into 4 portions
Preparation Steps
Step 1
The first thing you need to do for this low carb meal is preheat your oven to 425°F. Ensure that you line your baking sheet with foil.
Step 2
Ensure your salmon has been pat dry before placing it on your foil-lined baking sheet. Sprinkling ¼ of pepper and salt on the salmon. Mix your horseradish and mayonnaise into a small bowl. Make sure it is thoroughly mixed before brushing it over your salmon. Roast the salmon till the center is opaque. This takes about 7 to 10 minutes.
Step 3
While your salmon is roasting in the oven, heat the oil in a large skillet. On medium-high heat, toss your leek with cornstarch into the pan. Separate the leek strands using tongs while cooking. You should take them out only when the leeks are golden brown and crispy. This process takes anything from 5 to 8 minutes. You can then transfer the leeks to a plate lined with a paper towel. Sprinkle the remaining pepper and salt to taste, and you are ready to serve.
2. Cheesy Portobello Chicken Cutlets with Broccoli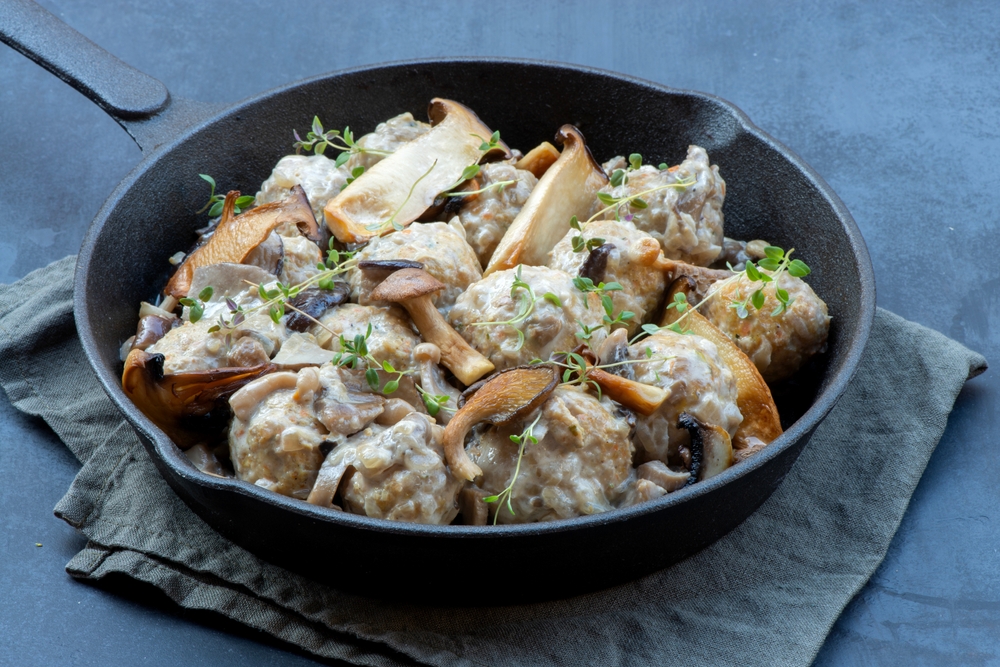 The cheesy portobello chicken is another low carb 30 minute meal that adds nutty Gruyere to the flavor train. If you don't have Gruyere, you can substitute for Emmentaler or Jarlsberg cheese.
This low carb recipe takes about 30 minutes to complete and can serve four. In terms of nutritional profile, it is:
Soy-free
Nut-free
Low-calorie
Low carbohydrate
Gluten-free
Egg-free
Ingredients required
Chopped fresh parsley for garnish
2 tablespoons chopped fresh thyme, plus more for garnish
4 ounces sliced Gruyere cheese
1 teaspoon of Dijon mustard
2 tablespoons of Worcestershire sauce
2 tablespoons of balsamic vinegar
1 large portobello mushroom cap, stem, and gills removed, sliced
1 cup sliced onion
¼ cup of water
1 large head of broccoli, cut into 2- to 3-inch spears
½ teaspoon of ground pepper, divided
½ teaspoon of salt, divided
4 chicken cutlets (about 1 pound)
2 tablespoons of extra-virgin olive oil, divided
Preparation Steps
Step 1
First, heat a tablespoon of oil in a large skillet. The skillet should be ovenproof and placed over medium-high heat. You can then season your chicken using ¼ teaspoon of pepper and salt in the pan. Cook the chicken flipping only once until it attains a golden brown color. You can verify that the chicken is done by putting your thermometer in the thickest part. It should read 165°F. Once achieved, transfer to a plate.
Step 2
Lower the heat to medium, and add 2 teaspoons of oil to the pan. Add in your broccoli and then cook, occasionally stirring, until the broccoli has a browned look. This takes about 5 minutes to achieve. Once done, add water to the pan and cook the broccoli until tender—5 more minutes. Transfer it to the chicken plate.
Step 3
You can add 1 teaspoon of oil into the pan, following it up with mushroom and onion. Cook the mixture for 5 to 9 minutes until it becomes brown. Add your mustard, thyme, Worcestershire, and vinegar into the mix, with ¼ teaspoon of pepper and salt. You can also add any surplus chicken broth from the plate.
Step 4
While this is ongoing, move the rack into the upper third component of the oven. The oven should be moved from preheated broiler to high.
Step 5
Place the chicken into the pan and then add the mushroom source to it. Place the broccoli around the chicken, and then add as much cheese as you want. Broil the mixture until the cheese gets a golden brown look. This typically takes a couple of minutes. Once done, you can serve it with thyme or parsley.
Discover 9 savory breakfast ideas without eggs here.
3. Chicken Cutlets With Roasted Red Pepper & Arugula Relish

You can add a pop of sweetness to this chicken recipe by adding arugula and roasted peppers.
This keto chicken recipe takes about 20 minutes to complete and can serve four. In terms of nutritional profile, it is:
Soy-free
Low calorie
Low carb
Heart healthy
Gluten-free
Egg-free
Dairy-free
Ingredients Required
1 teaspoon of sherry vinegar
½ clove garlic, grated
1 ½ teaspoons of granulated sugar
1 tablespoon of pine nuts, toasted
½ cup jarred roasted red peppers, rinsed and finely chopped
½ cup chopped arugula
2 tablespoons warm water
1 tablespoon of dried currants
1 tablespoon of extra-virgin olive oil
⅛ teaspoon of salt plus a pinch, divided
½ teaspoon of ground pepper, divided
¾ teaspoon of sweet or hot Hungarian paprika
1 pound of chicken breast cutlets
Preparation Steps
Step 1
Season your chicken breast with paprika, 1/8 teaspoon salt, and ¼ teaspoon pepper. Over medium-high heat, heat your oil in a large skillet. Once the oil is hot, add your chicken, cooking until golden brown and flipping just once. After 6 to 8 minutes, your chicken should be cooked with the thickest part of the chicken, registering 165°F, on the thermometer. Transfer your cooked chicken to a plate.
Step 2
While your chicken is being cooked, soak your currants in water for 5 minutes. After 5 minutes, drain, then mix the currants, roasted peppers, sugar, garlic, pine nuts, arugula, vinegar, and garlic into a small bowl. Add a pinch of salt and ¼ teaspoon of pepper to taste.
Looking for more low carb 30 minute meal inspiration? Try these out.
Pork Chops
You will need pork chops, canola oil, a garlic clove, beef broth, brown sugar, soy sauce, crushed red pepper flakes, cornstarch, and cold water for this recipe. Simply brown the pork chops in a pan with the oil and remove them from the pan.
Add garlic to the pan and cook for about a minute before stirring in the rest of the ingredients minus the cornstarch and water. Return the pork chops to the pan to keep warm.
To make the sauce, combine the cornstarch and water and mix it into the broth. Bring this to a boil and stir until thickened. Spoon over your pork chops.
Find the full recipe and nutritional information here.
Cauliflower rice or zucchini noodles are good low carb side options for this downhome pork chop dish.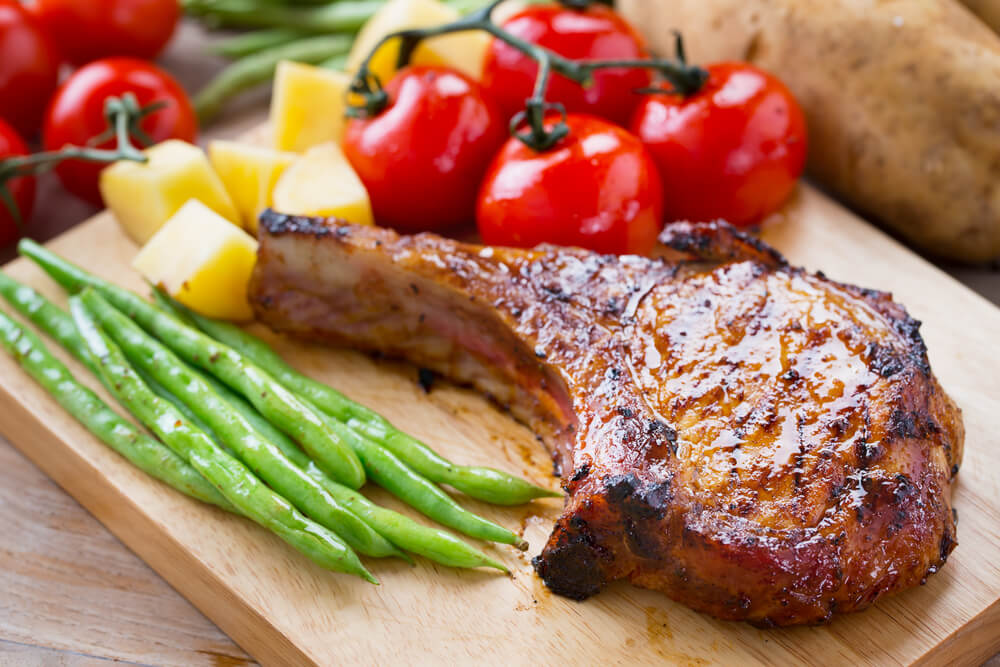 Vegetables, Steak, and Eggs
You don't have to skimp on food when you are on a low carb diet, and this recipe is a testament to that. For this recipe, you need a skirt steak or flank steak, steak seasoning, butter or coconut oil, zucchini, yellow summer squash, sweet red pepper, baby spinach, salt, pepper, eggs, and shredded parmesan cheese.
Rub the steak with your seasoning and grill the steak for three to five minutes on each side. In a skillet, saute your zucchini, squash, and red pepper and then add the spinach, salt and pepper. Serve on plates.
Heat butter in the skillet and make your eggs as desired. You can serve them on top of your thinly sliced steak with squash and some cheese.
This is a lighter version of traditional steak and eggs. Canola oil is a good substitute for butter and will save on calories.
Find the full recipe and nutritional information here. 
About the author:
Rob Jones is a father of two who lives in Massachusetts and enjoys cooking and his dog Beau. Rob has spent years studying food and its effects on the body and mind. He believes in moderation and enjoyment.