Green tea is one of the best beverages to drink while fasting. It's a pleasant tasting drink, well-known for its health benefits. However, matcha tea, a specific type of green tea, could be even more potent.
In this article, we discuss what matcha tea is, its history, preparation methods, and the most significant health benefits of matcha. Read on to learn more.

What Is Matcha Tea?
People make green tea by steeping tea leaves in water and allowing various polyphenols and fragrance compounds to leach out. However, matcha is different. It is a dried and powdered green tea powder (often made from the most succulent leaves) mixed into hot water, like cocoa. The beverage is popular in Japan and gaining notoriety globally for the health benefits it offers.

Where Did Matcha Tea Come From?
Matcha tea originated in China millennia ago. Ancient Chinese did not have teapots. Therefore, they ground tea leaves into a powder and then whipped them in a bowl with hot water. This so-called "beaten tea" remained a staple for hundreds of years, but declined in popularity following the introduction of steeped leaves.

Even so, the Japanese soon took up the concept. Zen priests studying in Chinese monasteries continued preparing the drink on their return to Japan. From the 12th century onwards, the country began drinking "beaten tea" with many Buddhist masters using the drink as part of meditation rituals. Eventually, the religious practice of matcha tea consumption spread throughout the country.

As the centuries passed, Japan's samurai took up ceremonial matcha tea drinking. The caste, who based their identity on Zen Buddhism, added numerous rituals, giving the beverage central cultural importance. Samurai turned it into an art form, defining how to prepare and sip the tea, the hand movements people should make while drinking it, and even the décor of the surrounding room.

This "Way of Tea" is still a respected practice in Japan. People drink matcha in a quasi-meditative fashion for the spirituality the rituals evoke.

Where Is Matcha Tea Grown?
Like all other teas, matcha comes from the Camellia sinensis, the tea plant. In ancient times, the Chinese grew matcha domestically. However, two Japanese regions – Nishio in the Aichi prefecture and Uji in Kyoto – dominate production today.

While the tea plant that makes matcha green tea is the same species as all the others, Japanese farmers grow it differently. Once the plant reaches a critical developmental stage, cultivators keep it in the shade for three weeks. Denying direct access to sunlight causes an overproduction of chlorophyll, the substance plants use to turn sunlight into energy, and gives it its bright green color.

Shading the plant in this way changes the flavor properties of the tea. Darkness increases the production of theanine, an amino acid that gives the drink its rich umami flavor.

Once plants reach maturity, farmers handpick, de-stem, dry, and steam them. This process yields "tencha" – bright green tea flakes – which they mill into fine matcha powder. In the past, farmers performed milling by hand. However, today, many use modern machine-powered milling processes.

What Types Of Matcha Tea Are There?
Japanese producers sell matcha in two grades: ceremonial and culinary.

Ceremonial grade is the highest quality, often from selected buds and leaves. Producers pay utmost attention to quality, ensuring that the resulting drink has the freshest, smoothest and richest flavor possible.
Culinary-grade matcha is designed as an ingredient to be used in foods (such as matcha ice cream). It is more affordable than ceremonial-grade matcha but may contain stem grounds. The flavor is more astringent than ceremonial-grade, and the color is less bright.

How Much Caffeine Does Matcha Contain?
Matcha contains significantly more caffeine than green and black, tea, but not as much as coffee. That's because shade-grown tea leaves retain more of their caffeine content. Furthermore, drinkers consume the entire leaf, whereas regular tea drinkers only drink the caffeine that exits tea leaves during steeping.

The average content of matcha is 25 to 70 mg per 20-ounce cup. That compares to 24 to 40 mg for green tea, and 14 to 61 mg for black tea. Brewed coffee has far more caffeine, ranging from 85 to 200 mg per 20 ounce cup.

How To Prepare Matcha Tea

There are several methods of preparing matcha tea. Drinking matcha from a tea bowl is the traditional way of consuming the drink. However, if you don't have all the accouterments, you can still enjoy it from a conventional mug.

To make it with a bamboo whisk and a tea bowl:

Collect a tea bowl, bamboo whisk, bamboo stick, small sifter, hot water, and matcha powder
Place the sifter over the cup and fill it with a teaspoon of matcha powder
Use the bamboo stick to push the powder through the small sifter, eliminating any large particles
Add 20 oz of hot water (just below boiling) to the bowl
Whisk the matcha and hot water vigorously with the bamboo whisk until the drink produces a delightful green froth
Enjoy the tea directly from the tea bowl
To prepare matcha in a cup:


Collect hot water, a spoon, matcha powder
Mix the matcha powder with a few drops of water to create a paste with the spoon
Add more water to the paste and continue to stir
Add 6 oz of water, adjusting to taste
Drink the tea
The Health Benefits Of Matcha Tea
Because matcha tea is grown differently from conventional teas, it offers a different nutrient profile that helps you boost your immune system naturally. It also offers compounds not available in regular steeped green tea because drinkers consume the entire leaf.
Because of its many benefits, matcha tea is one of the most common drinks people consume during their intermittent fasting or fasting mimicking diet.
Here are the top 6 health benefits of matcha tea:

May Support Liver Health


Studies suggest that matcha may protect liver cells. People with nonalcoholic fatty liver disease receiving green tea extract for 90 days exhibited lower levels of an enzyme associated with liver damage. A review of more than a dozen trials later found that drinking matcha tea reduced the risk of liver disease later in life.

May Improve Cognitive Function
Research indicates that matcha tea may improve cognitive function across a variety of measures. Compounds in the tea leaf powder appear to significantly improve memory, reaction time, and attention compared to a placebo. Moreover, the L-theanine it contains modulates the effect of caffeine, eliminating crashing energy levels that typically follow coffee consumption.

May Assist With Weight Loss
The health benefits of matcha tea may also include weight loss. Like green tea, the leaf powder may speed up energy expenditure, both while active and resting. Studies show, for instance, that drinking green tea extra increases fat burning during exercise by around 17 percent. Large reviews also provide evidence that people who drink more green tea tend to have a lower weight than those who don't.

May Improve Heart Health
Further evidence suggests that matcha tea may be able to fight heart disease, the leading killer globally. Green tea extracts reduce LDL cholesterol, the type that leads to unstable plaques that cause heart attacks. Compounds it contains may also prevent the oxidation of cholesterol in the body, a harmful process that makes atherosclerosis (the furring up of arteries) more likely.

Improves Antioxidant Status
Researchers believe that antioxidants may play a role in healthy aging. These compounds buffer cells against free radicals and protect organelles, such as the mitochondria.

Regular green tea is high in antioxidants. However, studies suggest that matcha may contain up to 137 times more, increasing its free-radical-fighting potential. Evidence also suggests that matcha supplements may reduce oxidative stress by boosting endogenous antioxidant activity – at least in animal models.

May Prevent Cancer
Lastly, there is some evidence that drinking matcha tea may help to reduce the risk of developing cancer. Animal studies, for instance, show that green tea extract reduces tumor size and slows the rate of cancer cell growth. Further tests show that EGCG, the active compound in tea products, has powerful anti-cancer properties across human and animal subjects, both in vitro and in vivo.

Who Makes The Best Matcha Tea?
Dozens of brands make matcha tea, but the following are the best, according to matcha tea reviews and our careful research.

#1 Pique Sun Goddess Matcha Tea

Our number one matcha tea recommendation is Pique Sun Goddess Matcha Tea. It is USDA organic certified and triple-toxin screened for purity. Formulated by Dr. Jason Fung, a leading authority in the science of fasting, it's also 100 percent free from refined sugars, additives, and preservatives, containing only pure matcha powder. Users report the drink providing them with calm energy, with none of the crashes or jitters of conventional caffeinated beverages. USE CODE: FOODZIE5 for 5% discount at checkout.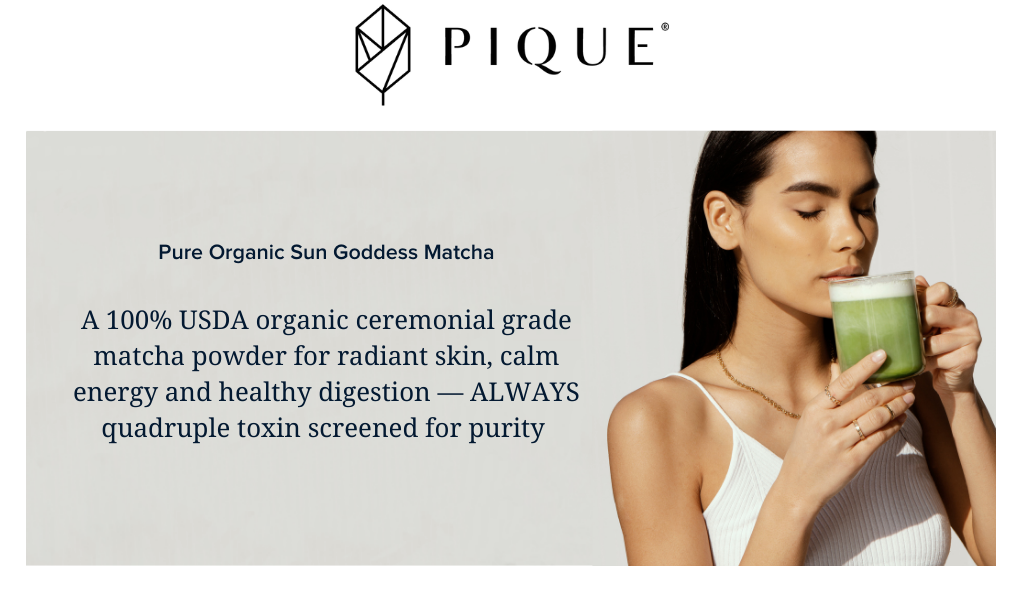 Our number two recommendation is Adagio Matcha Tea. This brand is well-known for selecting the finest ceremonial-grade gyokuro tea leaves. It takes care to remove the veins and grinds leaves in traditional granite mills until they become beautiful powder. Matcha comes from the Uji cultivar Samidori and is harvested in the spring when it is still young. It's perfect for anyone looking to recreate a traditional Japanese matcha tea drinking experience.
About the Author:
Rob Jones is a father of two who lives in Massachusetts and enjoys cooking and his dog Beau. Rob has spent years studying food and its effects on the body and mind. He believes in moderation and enjoyment.