Cleaning the kitchen is part of daily life. There will always be dishes and counters to clean, but that doesn't mean you have to stick with old routines that steal your time. Check out a few of the best handheld kitchen vacuums to speed up your cleaning efforts. They'll keep your home cleaner between every sit-down meal and dinner party.
Benefits of Handheld Vacuums
If you've never used a handheld vacuum in your kitchen, you might wonder why people like them. There are numerous benefits to investing in a smaller vacuum model, like:

Suctioning crumbs that paper towels can't pick up
Cleaning counters in seconds
Vacuuming around counter appliances
Using the vacuum in other areas, like your car or desk
There will always be dirt and crumbs on household surfaces. Small, portable vacuums simplify cleaning so you don't sweat small responsibilities on your to-do list.

They can also save money in the long run. You won't have to buy as many paper towels because your vacuum removes small debris. Cloths would push those crumbs around, but a vacuum instantly takes care of dirty countertops without single-use waste.
3 Best Handheld Kitchen Vacuums
These are some of the best handheld kitchen vacuums for people on a budget. They've got great reviews and come from the most trusted brands. You're in for a high-quality purchase, regardless of your chosen model.
1. Shark WANDVAC Handheld Vacuum
After mixing the ingredients for your favorite recipe in plastic-free bowls, you might notice flour scattered across your counter. Shark's Wandvac vacuum can handle powders and fine-grain foods with ease.

The 1.4-pound model uses high-speed suction to trap debris in filtered cartridges. An LED indicator light will let you know when the 115-watt battery needs to recharge so you can vacuum throughout the week without issue. It also has a one-touch emptying system so you don't have to get your hands dirty between uses.

You should consider this model if you live a sustainable lifestyle. Shark features recyclable packaging to make every purchase greener. It's an essential part of transforming the manufacturing process, which factors into the sustainability of your purchases.
2. BLACK+DECKER Dustbuster Cordless Vacuum
People love the sleek look of BLACK+DECKER's Dustbuster vacuum. It has a clear base so you can watch debris fill up the dirt bowl and empty it as needed. There's no need to worry about liner bags or wrangling a cord around your kitchen.

The 10.8-volt battery uses enough power to draw crumbs into the vacuum and cyclone them around the filter. Nothing will stick to the inner filter and reduce the suction power due to the whirlwind action inside this model. However, it won't spike your electric bill because it uses electricity so efficiently.

You'll also get multiple nozzles to expertly clean corners and crevices. A removable nozzle could reach behind your coffee machine before another brushes debris loose from your bread basket.

With a two-year warranty and a history of five-star reviews, the Dustbuster could be your next favorite kitchen cleaning device. It all depends on which features you want in a vacuum and which brands you prefer.
3. Bissell AutoMate Handheld Vacuum
Consider Bissell's AutoMate model if you're worried about handheld vacuums being too small to handle your household messes. The dirt cup can hold almost an entire liter of debris before you have to dump the bagless container into your garbage can.

A brush tool sweeps debris off your counters and into the vacuum so you don't miss anything. It's also helpful when you need to get pet hair off your kitchen chair cushions or even in your car. A built-in LED illuminator reveals the path ahead when you need to clean in darker crevices.

This model comes with a 14-volt lithium battery, which is the most advanced technology on the market. You'll get long-term use out of your investment so household messes never stick around for long. Charge this model occasionally, and it'll always be ready to help you tackle kitchen messes.
Handheld Vacuum Maintenance Tips
Once you've picked a handheld vacuum model you like, remember these easy maintenance tips to make your purchase last. They only take a few minutes of your time but significantly affect how well your appliance functions.
1. Clean the Interior Features
As time passes, any vacuum collects microscopic dirt that builds around the interior. The buildup can reduce your vacuum's suction power if it lingers after you dump the contents into your trash can.

Every so often, dismantle your vacuum and rinse the dirt cup in your sink. You can also rotate the filter under water to loosen whatever's trapped inside. Let everything dry overnight before putting your vacuum back together. You may notice that it works more efficiently because the inside is nearly brand new.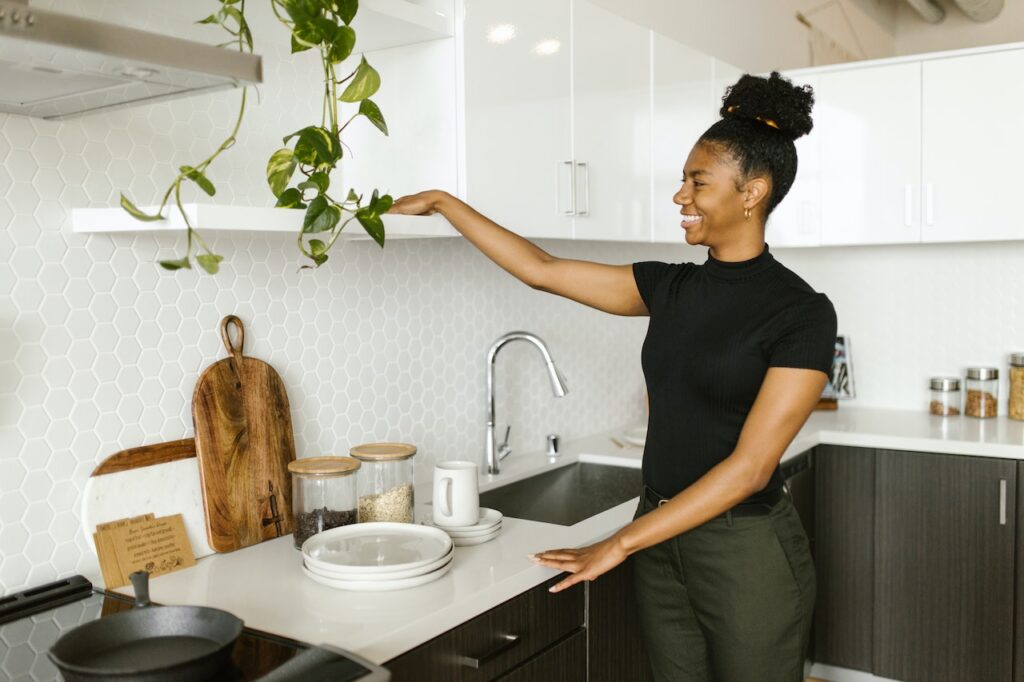 2. Store in a Dry Area
Where you keep your vacuum can make it last longer or destroy it from the inside out. If you keep it in the cabinet above your stove, the moisture rising from your pots and pans will creep in and linger inside. It could rust or corrode the internal components that make your vacuum so great.

Store your handheld kitchen vacuum in a dry area. It's a good practice to keep your high-quality kitchen tools in the best condition. A cabinet away from your stove or a shelf in a hallway closet will protect your investment so it lasts for years.
3. Rinse the Attachments
Things can get stuck in vacuum attachments, too. Rinse your most frequently used nozzles as often as you clean the model's dirt cup. They'll pick up debris more quickly if you let them dry before using your vacuum again.
Make Your Kitchen Cleaning Easier
Keeping your kitchen clean doesn't have to feel like a never-ending battle. A handheld vacuum will transform how you interact with the heart of your home. Consider your kitchen's size and the countertop features to get the best model for your household needs. If you take care of it, you'll never have to battle crumbs again.

ABOUT THE AUTHOR:
Mia Barnes is a health and wellness writer with a passion for nutrition and mindful eating. Mia is also the Founder and Editor-in-Chief of Body + Mind Magazine, an online healthy living publication. When not writing, you can find Mia reading mystery novels or practicing yoga.